Thankfully the good weather eventually arrived after a very wet Friday and held fair for the weekend at Lowther. Although there is always something to improve at these events, the feedback was positive, most thought that this year was the best show that they can remember. The fishing village row was well organised with clubs, associations, river trust, fisheries, agencies, fishing related interest and retail with many happy stall holders.
9am.
10am!
The fishing island was generously sponsored once more by John Norris of Penrith who donated all the prizes for the weekend, a very big thank you to them and also for the excellent first class service they provide!
The main arena in front of the fishing village row was just non-stop entertainment all weekend, very much busier than last year.
The fishing island staffed by AAPGAI, Penrith Anglers Association and lady family members was very busy for the bigger part of each day with demonstrations, competitions, fly casting clinics and some fun activities.
The Ladies.
Bert Schaaf.
Derek Kelly.
Clive Mitchelhill.
Brian Towers.
Karl Humphries.
Alan Roe, (Wallis casting).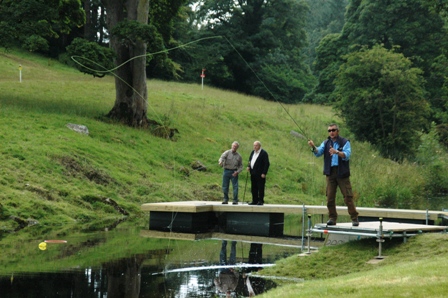 John Walker.
Stuart Ray.
It is always nice to meet new people and catch up with good friends from all over the country as the Lowther show has a great atmosphere and is in a great setting.
But the weekend at Lowther this year was about the young people, getting them into fishing and outdoors, also encouraging people who used to fish, back into fishing. The benefits of angling in any form are just tremendous and more importantly healthy for body and soul!
Junior casting clinic on the fishing island (river Lowther) with John Walker.
Junior casting clinic on the fishing island (river Lowther) with Stuart Ray.
Penrith AA running the accuracy and fun fly competitions.
There were some very proficient fly casters!
It was busy with plenty of youngsters have a casting lesson and then having a go at the target competition which was fierce at times!
There were 141 bookings over the two day's for the trout accuracy and the fun fly with 80 of those being young people.
Many have also signed up for future junior angling events that are planned with REDFA. Seven awards of generous John Norris gift vouchers were given to the youngsters each day that showed promise and were keen to learn. There were so many that had a go and did so well, we wanted to give everyone a prize, it was always going to be difficult to chose the eventual winners.
Some very nice fly casting!
Good fun!
It was the first time many had tried fly fishing this weekend.
Having a chat with the eventual winners of the day from Mike Ashwin, all of them and there were many first timers, now want to pursue the wonderful sport of fly fishing with many getting their parents to do so as well.
It was quite obvious this weekend, that there is the demand in the county for getting new people into fly fishing, and we have all been trying and doing that for many years, but how do we get that message out there more effectively?
Some very happy prize winners courtesy of John Norris of Penrith!
(The dog did not win anything by the way!)
Borderlines with Chris Bowman ran a stall which was very well attended all weekend entertaining the young ones with the flounder catching activity and showing the general public what work with youth they do in Cumbria and south-west Scotland. Borderlines have been around for a long time now and have taught many thousands of children throughout the years.
All in all a very enjoyable and more importantly worthwhile show, we got a bunch of people enthused about taking up fly fishing, happy day's!