Fly Fishing in Cumbria
Cumbria is just one beautiful county with fantastic scenery, very nice people and great fishing. My aim is for you to enjoy what we have here on the river Eden, and to give you an experience in a real fly fishing situation on a serious game fishing river, also to help you understand how and why. We do not always catch fish every time out, (that's fishing sometimes), but you will have a good day on the water, learn something new, have fun and I will look after your needs.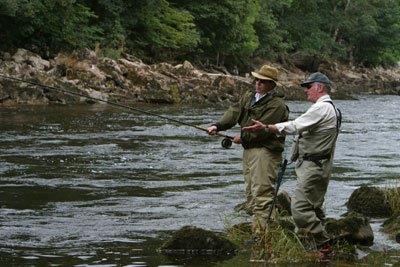 I will keep you supplied with tea/coffee plenty of photos, and you go away at the end with something special. Casting tuition for double and single-handed rods, single and double Spey, snake roll, snap-T/circle, overhead, sunk line, double haul and salt water techniques and many others. Reading the river, safety, fishing tactics, knots, playing, landing, handling fish, entomology and enjoying the surroundings.
I can supply any equipment you may need if needed at no extra cost.
If you rather take the train I can collect you from Carlisle railway station.
Other available courses –
07808563788 – 01697351752
"Bulldog" An Eden Pattern dating back to 1894